Marvel has just released the first trailer for Thor Love and Thunder and it looks amazing. With this, we see the first Marvel character to get a forth solo focused movie and it marks the return of Natalie Portman as Jane Fostor and also the new Thor.
It's great that they have released this teaser now, we can probably expect a full-length trailer with Doctor Strange and the Multiverse of Madness.
Love and Thunder brings back Taika Waititi as a director and I'm so excited to see another of his movies, he knows how to shoot some really beautiful and emotional scenes from this first teaser he's not disappointed.
Below is a comparison from a comic to the movie and the attention to detail is amazing, I'm sure it's going to be full of easter eggs and references to the source material.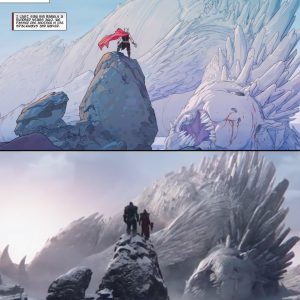 Posted by Adi Mursec on April 18, 2022