We've seen a lot of big comics events recently but this well orchestrated masterpiece of a fan boy dream is one of the most ambitious I've seen and it's coming from IDW this September.
It's called Revolution and combines some of Hasbro's biggest properties apart from Play-Doh and My Little Pony although if they make a Revolution volume two I wouldn't be surprised to see them make an appearance.
Revolution is a five issue series which crossed over Transformers, G.I. Joe, Rom, Micronauts, Action Man and the long awaited M.A.S.k comic series. It's been in the works for a long time and will be like no other cross over series we've seen before. For almost as long as we've had Transformers comics we've had cross overs with G.I. Joe and I've not read one I didn't like.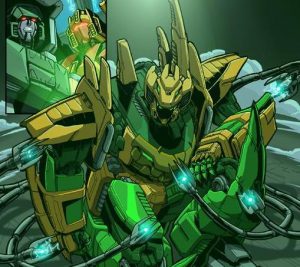 I love Transformers comics but when you add a little more flavor to the series it almost adds a whole new dimension. Seeing how the Transformers worked with G.I. Joe has been a lot of fun over the years. Back when Image were doing the cross overs we even had one (The Art of War) where a G.I. Joe baddie Serpentor got hold of the Matrix of Leadership and became a human/Transformer hybrid. It's that kind of new thought process which breathes new life in a series.
Now we've not just got G.I. Joe in the mix but Rom has officially joined the Transformers universe which is pretty epic since he was one of the first Super Robots to hold his own comic. Along with him we have Action Man and M.A.S.K. You might ask what they all have in common and that's hi-tech. Each franchise is based on action and futuristic technology. Thought that we should see a really smooth cross over. I'm just worried five issues wont be enough, although each issue will be accompanied by an issue or two from each series involved.
For fans of these franchises be it one or all of them these kinds of series open up so many opportunities. It can take years to build up a rivalry and back story to characters affiliations, by crossing them over between other well know franchises we can jump right into a new story we haven't seen before but with characters we know well. Imagine how G.I Joe could take on V.E.N.O.M or if the M.A.S.K vehicles turned into Transformers. They can have so much fun with this series.
Michael Kelly, Head of Global Publishing at Hasbro:

Our heroes, whether they are from Earth or from distant reaches of the galaxy, all have one thing in common: their powers and abilities are based primarily on technology. We have been able to use this fact to build a natural and believable link between all of these disparate characters. The result is a complex and dynamic world where all manner of conflicts and team-ups can and will exist. If you are a fan of Hasbro's brands, your time is now.
It's early days so far but having a cross over comic like this brings us one step closer to an epic Hasbro movie franchise.
Read more about Revolution on the IDW Website
Posted by Adi Mursec on July 21, 2016