Marvel have been doing a great job of bringing us some very well put together Star Wars titles over the last year or so, they have given fans some great stories revolving around the main characters in Star Wars.
Now Aspen Comics is helping add a little epicness to the Star Wars comics with a Michael Turner exclusive cover, it features a previously unseen Darth Maul sketch. The black and white cover will me limited to only 2000 copies but another version with colors by Peter Steigerwald will also be available limited to 3000 copies.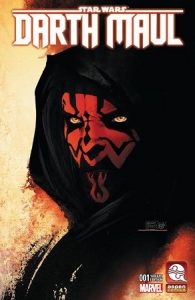 Visit the Aspen Comics store for more details
Comic synopsis:
Bred on hate, fear, and anger…steeped in the ways of darkness…and trained to kill. Darth Maul's time as apprentice to Darth Sidious has long been cloaked in shadows, but at last we will reveal his tale of revenge. From writer Cullen Bunn and artist Luke Ross comes a tale of rage unleashed as Darth Maul prepares for his first encounter with the Jedi.
In the last few months Aspen Comics have released a lot of previously unseen Michael Turner covers such as the Spider-man variant and a few for DCs Justice League too. I've got my fingers and toes crossed that they release some previously unseen Supergirl covers too, he did an amazing run on that series with Ian Churchill.
Posted by Adi Mursec on January 15, 2017