The Spider-Verse event may have ended a while ago and I tried to avoid it due to a dislike for massive cross overs but having read a few issues I was hooked as it isn't the usual cross over series. For those who haven't heard of it before it is a series written by legend Dan Slott which incorporated every incarnation of Spider-man that Marvel have ever thought up and brings them together to fight one battle against a god like family who feed of their essence.
I've read comics for years and one thing I've learned to stay away from is big cross over series, they are usually hard to follow, always leave the story incomplete in parts unless you can follow up on each series and are mainly just created to sell a load of comics you usually wouldn't buy.
There are a few big cross over series which have been unmissable like the original Crisis on Infinite Earths, Civil War and The Infinity Gauntlet and now Dan Slott's Spider-verse.
After reading this whole series I think arguably Dan Slott is as important to Marvels current Spider-man line up as Stan Lee was to his invention. He has choreographed an truly amazing Spider-man series for many reasons. The main ones being that if you are a hard core Spider-man fan you will love to see them all working together, the other is that this series is a great jump on point for anyone who hasn't read any Spider-man comics before as it introduces you to a whole host of new and old Spider-powered heroes.
The whole Spider-verse event is as compact as it can be without stretching the series out with filler issues. It does what it says it will and uses all the Spider-man incarnations from the Amazing Spider-man to the Cosmic Spider-man with the powers of a god and a host of female Spiders including Gwen Stacy, Peter Parkers Daughter May, Spider-Woman and Silk and the best Spider-man of them all Supaiderman the Japanese incarnation with the super robot Leopardon.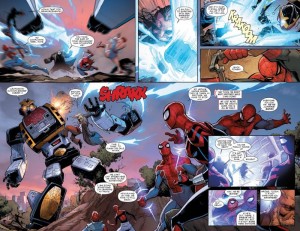 To bring all these characters together in one comic would sound impossible but Dan has been working on this for years and has developed a new villainous family to pull it off. Inventing a whole new villain to do something drastic is similar to the invention of Doomsday to kill of Superman as at the time DC didn't think that any existing character was worthy of killing the Man of Steel.
The Inheritors are that new threat to the Spider totems of each universe. They have the power to travel through time, space and universes through something called the Great Web which they have stolen control of. They are a family with a lot of domestic problem which the Spider team use to their advantage as much as possible.
As an evil family the Inheritors live by some old fashioned rules, one of them is that at some point in the future the Spider-people will be responsible for ending them as it is written in an ancient prophecy. To stop the creation of new Spider powered individuals they need to sacrifice three specific totems Kaine (The Other), Silk (The Bride) and Benjy Parker (The Scion). All three of them play a big part in the story and really help emphasize how diverse the Spider-verse really is. One of them is the Man-Spider another is a new character who was bitten by the same spider that gave Peter Parker his powers and another is Peter Parker's son from another reality.
Once the Superior Spider-man catches onto their plan after running into one of them and he starts to recruit Spider-people from every universe he can and thus starts the story.
The whole story is complicated and will keep you guessing, there isn't any filler in this series it's all comic gold. All the writing and artwork is kept in line to keep it consistent and it's overall an amazing read.
Dan Slott is really one of the great writers at the moment, he has done for Spider-man what Frank Miller once did for Batman. Taking him on and reinventing an old character into something new and exciting.
The only down side is tracking down all the comics and getting the reading order right. There is an abridged version of the story which runs through the key moments and there is all the single issues which fill in the gaps and make this story truly complete.
Even if for some reason you don't like Marvel and you are a hard core DC fan boy I would still recommend this series. It's just awesome through and through. Well written a great story and there is literally something in this series for everyone. It's going to be talked about for years to come and I hope Disney / Marvel Studios have the spider-sense to get Dan Slott involved in the new Spider-man movies as he knows the character better than anyone.
Lastly I have tried to find Spider-man incarnations that were missed from this series but can't find any so if you spot one let us know.
Spider-verse full reading order
Superior Spiderman #32
Edge Of Spider-Verse#1
Superior Spiderman #33
Edge Of Spider-Verse #2
Edge Of Spider-Verse #3
Edge Of Spider-verse #4
Amazing Spiderman #7
Edge Of Spider-Verse #5
Spider-Man 2009 #5
Amazing Spider-Man #8
Spider-Verse Team-Up #1
Amazing Spider-Man #9
Spider-Verse #1
Amazing Spider-Man #10
Spider-Woman #1
Scarlet Spiders #1
Spider-Man 2099 #6
Amazing Spider-Man #11
Spider-Verse Team-Up #2
Scarlet Spiders #2
Spider Woman #2
Amazing Spider-Man #12
Spider-Man 2099 #7
Spider-Verse #2
Scarlet Spiders #3
Amazing Spider-Man #13
Spider-Woman #3
Spider-Verse Team-Up #3
Spider-Man 2009 #8
Amazing Spider-Man #14
Spider-Woman #4
Amazing Spider-Man #15
Posted by Adi Mursec on June 28, 2015