Back in 1972 a manga legend by the name of Go Nagai started work on his Mazinger Z manga, it was the start of something big, not just the story of a giant robot, but the giant robot. Mazinger is the great grandfather of modern day super robots.
Ever since it's first release there has been regular manga releases with a good set of anime series and animated movies along the way. The last time we saw a big Mazinger release was in 2015 with his last and very epic manga release Shin Mazinger ZERO vs. Great General of Darkness which has some ground breaking super robot artwork.
Now out of nowhere a teaser website has launched teasing a new movie which is set to be released in January 2018.
At the moment there isn't any information about the movie although we did a new design for him in the latest Super Robot Wars game which was only released in Japan, that version is called Mazin Emperor G and looks to be the coolest incarnation of Mazinger yet.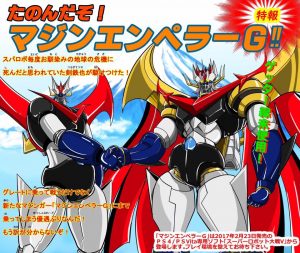 Posted by Adi Mursec on January 26, 2017