"Guardians of the Galaxy" (CC BY-SA 2.0) by theglobalpanorama
With James Gunn's Guardians of the Galaxy 2 hitting the cinemas this year and a new interpretation of Hellboy very much in the works, 2017 looks set to be as superhero heavy as last year, which was dominated by the box-office tussle between Warner's DC franchise, as helmed by Zack Snyder, and a string of movies set in the Marvel Universe. From Doctor Strange to Superman v Batman: Dawn of Justice, comic book adaptations are all the rage in Hollywood at the moment, and this enthusiasm shows no signs of abating. Producers figure that fans are not yet sated, and though the market might be close to saturation, whilst there's an audience willing to part with their money, the studios will keep on cranking out the product.
No-one wants to upset a loyal fanbase – and graphic novels have garnered one of the most ardent fan bases it is possible to collect, with fans scanning every minute of screen time searching for continuity errors, interlocking back stories and the occasional Easter egg. Everyone wants their adaptation to be faithful, to straddle that delicate bridge between fan service and commercial success.
Each new movie release generates a stream of merchandising tie-ins, and these days merchandisers have their ear to the ground for astute marketing that will complement the brand rather than detract from it. Officially licensed products roll in with the distribution of each film, with merchandising deals often set in place months or even years before the subject film gets a theater release. Standards are generally high, and everyone comes away happy.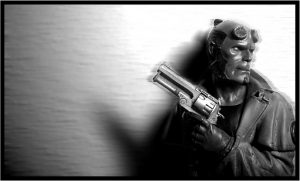 "Hellboy." (CC BY-ND 2.0) by _iBaNe_
The remake of Hellboy was but a rumor of a rumor until recently, but as further details of the film project emerge, the marketing for it is already well under way. T shirts, stickers, an upcoming console game and even an online slot game, courtesy of the 32Red online casino, where fans of the original can watch their favorite characters depicted in colorful comic book graphics as their faces whirr round on five reels. The 32Red online slot is a prime example of how licensed marketing can heighten audience awareness of an upcoming theater release, whilst doubling down on an existing and loyal market – those legions of fans who were fans of the comic book before even the first Hellboy film was released, back in 2004. Other online casinos such as 247 Lucky also host the Hellboy game as well as other slot machines based on big franchises such as Tarzan, Jurassic Park or Tomb Raider.
It is possible to construct a timeline charting the ascension of the superhero in mainstream cinema, but it's worth examining why this cluster of films should arrive this decade, when previously the superhero movie was looked upon as a high-risk accounting adventure in the eyes of many in the industry.
The dismal flop that was 1987's Superman IV: The Quest for Peace effectively killed off big studio appetites for tackling superhero movies for a generation. It took 18 years and a British filmmaker from outside the Hollywood system to rekindle their interest. Christopher Nolan's Dark Knight trilogy stamped integrity and attention to detail onto the DNA of the genre. His dark vision of the Batman franchise resonated with audiences, be they comic book aficionados or filmgoers entirely unacquainted with the conventions of the DC genre.
Marvel's riposte was of course Joss Wheedon's The Avengers (2012), which rebooted the Marvel universe and began the steady work of weaving the various plot strands together into an epic series arc which continues to this day. As a result, studios no longer see the superhero movie as a risky venture, now they see a multimedia franchise that, when handled carefully, is a cinematic money-making machine. So, why the change?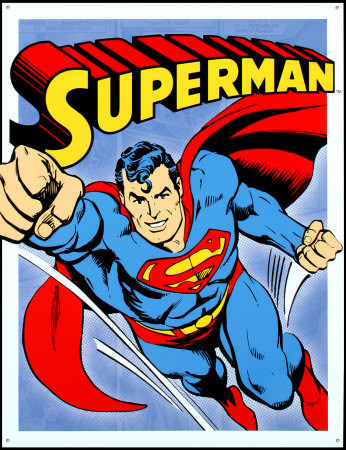 "superman" (CC BY 2.0) by PSC1121-GO
Technology. That's the simple answer. Christopher Reeve's Superman flew on wires against a blue cloth backdrop, with a wind machine to artfully blow the hair back from his face. It was a relatively expensive special effect for the time. Henry Cavill's Man of Steel incarnation flies at the speed of processing; a true product of the digital age, modeled on computers of great power, the best graphics suites money can buy and a modern studio can assemble. Today's digital effect technology is baked in to the filming process, no longer painted in at a later stage. Effects are crisper, clearer, more (cough) realistic. They can be orchestrated upon a scale that was inconceivable in the eighties. And they open the door to rendering superpowers that would previously have been too costly to capture on film.
Suddenly, it's open season for the comic book market, with production teams scouring the farthest fringes of the comic book universe, looking to old sources for new inspiration. And rediscovering some absolute gems along the way.
Posted by Adi Mursec on May 16, 2017