We've seen a lot of old shows and movies come back over the last 10 years or so, its great for marketing I guess, the kid from the 80's and 90's are now grown up and have some money to spend. It seems to be a easy cash in and when done right everyone ones.
The new Masters of the Universe Revelation show is a Netflix produced show and they have a good track record of making new shows.
The new He-man show is slated as part 1 with it being only 5 episodes and likely more to come, especially with IMDB saying they have made 10 in total. It's got some mixed reviews so far and I think thats expected. Bringing anything thats had such a following as MOTU back in a new show you can't expect them not to upset a few old fans.
Kevin Smith is the face of the new show although he seems to be one of the five executive producers and seems to have only directed and fully wrote the first pilot episode. Which again is ok, he has a following of his own and can help promote the series.
There are some really great elements to the show, it's not a reboot as it seems to continue loosely from the original show and build on it. For a five episode series it brought back a lot of characters some of which were only mentioned in comics or other shows, it even has some elements from the live action movie to bring it all together. I think if you're a fan of the original you will love to spot the little references to past material.
Character wise we see just about all the old favourites along with some very unexpected locations such as the Eternia play set made for the original toys being repurpose as heaven.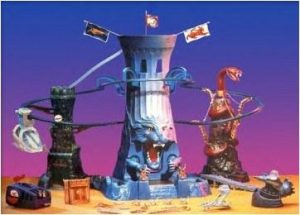 Scareglow also made an appearance which was well done, he was one of the last toys made for the original series and never made it into the original Filmation cartoon. It's the smaller details like that which will help bring back some of the older fans.
The tone is an evolution of the original series in the fact that the audience that originally watched it when they were kids are now adults and they have stepped up the fight scenes and violence in this to move with the audiences maturity now, it's nothing like the original cartoon but it's kind of how I remember it as a kid.  In the original show He-man was never allowed to use his sword in a fight properly due to censoring in cartoons, if he used it as a weapon it was more like a boomerang. In Revelations he straight up uses it to stab Skeletor and Skeletor says something like "You're finally using that sword as you were meant to".
There are some down sides to the show I wasn't hugely a fan of. It seemed like Kevin Smith hired a lot of his friends to be part of the cast even though others might have done better. Chris Wood to me personally wasn't a good fit for He-man. I think Mark Hamill is a great voice actor but I'd have used Alan Oppenheimer who originally voiced Skeletor. He can still do the voice and still does voice acting, they even got him on board but then used Alan to voice Mossman just before they set him on fire. Personally I think Alan would have done a better job than Mark in this instance. Alan created so much of Skeletors personality and to not use him again when they could have easily done so was maybe a bad move, Mark just sounded like the Joker again.
Animation wise it was great, again it looks like how I remember it as a child even if the original Filmation one was in reality so different. So the evolution of the character design and animation went down well.
Making the series revolve around Teela was interesting, I'm not sure if this was the best decision, maybe one or two Teela centric episodes but to sideline He-man and Skeletor for most of the five episodes doesn't seem to have pleased a lot of fans.
Overall it was great to see some new MOTU content, the show overall was enjoyable and I'm looking forward to the next five episodes.
If anything now, I kind of want to rewatch the original and the 2002 MOTU series which I think was a better follow on.
Posted by Adi Mursec on July 24, 2021