I've been building Gundam kits for about 15 years and this is by far the most challenging kit I've come across. It's not the usual snap together kit from Bandai, this is a resin kit with over 280 individual pieces which build this epic 1/144 scale RX-124 Gundam TR-6.
Take a look at the kit on E2046.com
Unfortunatly Bandai never made an official kit for the RX-124 Gundam TR-6 (Hyzenthlay II-Rah) (also known as the Gundam TR-6 (Advanced Woundwort Ex)) mobile suit which appeared in the novel Advance of Zeta: The Flag of Titans.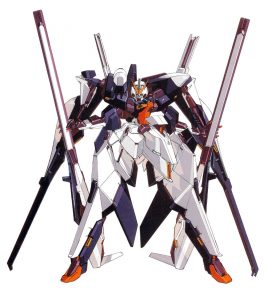 I've built Gundam kits from 1/144 scale all the way to 1/60 PG and 1/48 models and a few resin kits but none have been as daunting as this little masterpiece. The build was as rewarding as it was challenging.
When it arrived it was well packaged which is good as the parts in these kits can be very delicate. E2046 always bag the parts, wrap them in bubble wrap, box it all tight and then put it in another box to make sure it's be damaged in transit.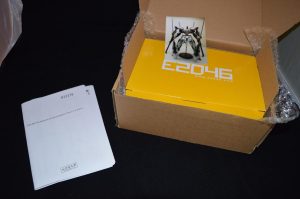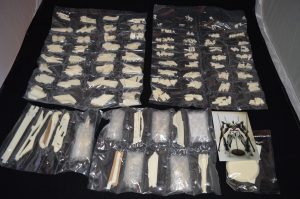 Checking through the parts it's amazing how much detail has gone into this kit, some of the parts are only a few millimeters in size, there are over 288 pieced in this model which made a mega detailed 6 inch or so model.
Compared to the other resin kits I've made like Great Mazinger or the Evangelion Beast Mode this was a whole other challenge, those kits were bigger and detailed but came in only a few parts compared to this one. I consider building resin kits a real work of art, just like painting a picture every artist will have a different approach. You will see a lot of seasoned pros make kits like this and have an almost flawless finish, the best tip I can give on building something like this is to just try your best. Use what tools, materials and paints you're comfortable with and take your time. With experience you will get better, I think each resin kit I've made has been a little better than the last as I've learnt a lot  from building each one.
What you will need:
Paints – I used Tamiya and Games Workshop acrylics.
Clippers – Any model clippers should do.
Sanding files – model shops might charge a lot for these, I'd recommend just using good cardboard nail files.
Sanding Sponges – Fine ones which will let you sand down curved pieces without leaving any lines in the part.
Air Brush – I used an Airbrush but it's optional, you could use spray paints or just hand paint the whole kit.
Super glue
Epoxy putty – I used white Milliput
The build process I used for this went as follows:
Study the kit. Like I mentioned there are over 280 pieces in this kit and a lot of them look very similar, take a good look at each one and identify where it goes.
Sanding and clipping. Resin kits aren't like the typical plastic ones, you will need to clip off tabs where the part was cast and sand down the ends. With some resin kit makers this can be a bit of a pain but with E2046.com they make the process as easy as possible and there is always minimal work needed to tidy up the kit. Use either the cardboard files or sponges depending on the shape of the part.
Washing the resin kit. Once it's sanded down give it a wash in some warm soapy water to clean off resin release agents and dust from sanding. If you don't wash the parts properly you may have issues painting as the paint wont stick to the parts too well. Below you can see the underneath of the kits stand. I forgot to wash this piece and used a black primer paint to coat it. You can see a small spot where a bit of the release agent stopped the paint from sticking to the surface, lucky this was just under the base. To fix this I'd have to sand the paint and surface down and repaint.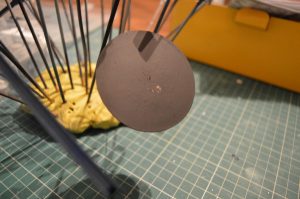 Group some pieces together. With so many pieces make you're job a bit easier by grouping bits which are the same colour and go together, this way you can reduce the 280 pieces to a more manageable number. For example a lot of the torso is white and clips together, you can glue most of these tiny bit into bigger pieces and paint them together. Same goes for a lot of the legs and arms too.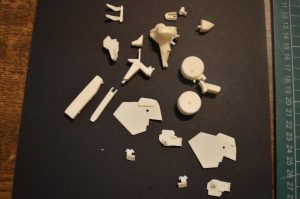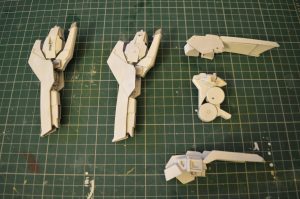 Test Fit. At this point you was to just see if all the parts can fit together ok, you don't need to glue them all but it's good to see if pieces need more sanding and to double check you have the right piece, a lot of them are tiny and look very similar. It's also the best time to check the parts don't have any bubbles or are warped in any way.
Priming. This this kit I'd recommend separating the parts into two piles. One which will end up white and one which will be the darker blue. You will also have a pile of tiny yellow vent which we will come back to shortly. For the white parts I'd recommend a light grey primer, Tamiya and Games Workshop both do these well. The reason I'd use a grey is so when you come back to paint the white top coat you can clearly see where you've painted. If you paint white on white it's easy to miss bits. For the dark blue bits I used a black primer again Games Workshop and Tamiya have a good selection.
Painting the tiny yellow vents. Now you get a few spare ones of these, at least I hope they are spares as otherwise I've just forgot to add them. Painting these was a little difficult at first, they are too tiny to get a good even coat by hand painting them, they are also too small to just spray paint or airbrush as they will get blown away. For these I glued them to a wooden skewer about 5mm apart from each other. This made them a lot easier to paint as I could pick them up and not touch the painted top, I could also paint loads of little pieces as easy as it was to paint one large one.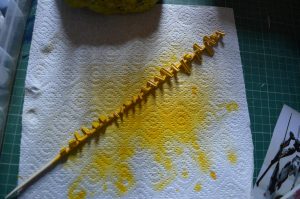 The top coat of paint. This was probably easier than the priming stage as the parts were easy to identify and just needed a thin top coat. I used an airbrush for this as it made things a lot easier.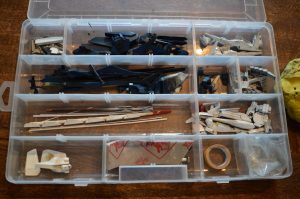 Assembly. With the kit being a 1/144 scale Gundam most of the parts are only small so some basic super glue worked well to bond the pieces together to form the limbs and weapons. The only down side to this kit would be the instructions, they don't document the assembly process in as much detail as you would see in a Bandai Gundam kit, the parts aren't numbered and with the angle the parts are drawn in the assembly instructions it's hard to see which parts go where. This isn't a major problem, it adds to the challenge I guess.
Pinning parts. With some of the heavy parts like the assembled arms I'd recommend using a pin of some sort, some people use metal ones but personally I'd prefer to use styrene rods. They have a finish like plastic, are light weight, cheap and come in loads of different sizes. Just use a rotary tool or a small hand drill to make a short hole maybe 10mm deep and then jam the pin in. If you do it right you can even leave a little articulation / make it poseable. 
Conclusion:  I've built a few kits but would still consider myself a bit of a beginner when it comes to making resin kits. One thing that would have made the build process a bit better would be more detailed instructions. Other than that this is a very enjoyable kit. Like the MG Kshatriya it's one of those kits with high demand but for some reason Bandai still haven't made an official kit. The creators of this kit have put a lot of time and effort into making this super detailed and it will fit in well with your Gundam collection.  If you are considering buying this kit it's a challenge but it's also very rewarding. It's definitely not a one weekend project, with the time it's taken me I could have probably built several PG 1/60 scale kits.
Posted by Adi Mursec on May 15, 2017