The Power Rangers has been one of the most long running kids TV shows on TV as it first started in 1993 and is still going fairly strong. As the show recycled footage from a Japanese Super Robot show it has elements that no western TV show had toyed with before. The martial arts and giant robot fights were just what TV needed.
The first team of rangers took to the streets of Angel Grove with help from Zordon and the Megazord which combined the awesomenes of dinosaurs and robots into one almost unstoppable fighting machine.
Now twenty years on the original fans have the series on Netflix and  more money to spend and Bandai have jumped in to take it with the Power Ranger Legacy series.
The Legacy Power Rangers toys bring back all the original toys with added articulation and metal parts for the adult collectors. These aren't cheap Hasbro robot toys. These are made by Bandai who usually just make very high end very expensive robots. The typical Chogokin toy from Bandai is aimed at collectors and have very limited released outside of Japan.
The Legacy Toys are one of the only Bandai Chogokin/Super Robot toy lines released officially outside Japan and have been a big success so far.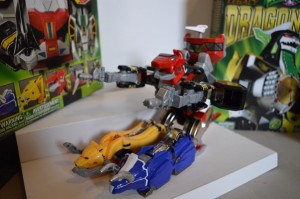 The Legacy Megazord combines all five of the original dino zords into not only the Megazord mode but the armored vehicle mode and the individual dinos too.
From a distance they look a lot like the original toy but up close and out of the box you can feel the weight of the diecast parts and see a lot more articulation. This is the Megazord fans have wanted for over twenty years and could be the last version we see for a while.
One of the best features of the Megazord is that the designers have kept it mega functional. They obviously have big plans for the toy line and have made it so they combine with other Legacy Zords in the series. If you can find one of the recently released Dragonzord they all combine to make the Mega Dragonzord.
Overall it's a great toy to pick up if you like Power Rangers or just collect Super Robot / Chogokin toys. It's a robot that hasn't aged a day in twenty years and will likely be just as popular in twenty years time.
Posted by Adi Mursec on December 31, 2014