Mazinger is the origin inspiration for most modern day Super Robot franchises, he's got a massive world wide following and his latest movie Mazinger Infinity introduced a new modern design for Mazinger himself along with the introduction of Mazin Emperor G a humungous mecha of monumental awesomeness.
Unfortunately we didn't get a lot of merchandise or toys from the movie but thankfully to e2046.com I've had the chance to get my hands on this super detailed Mazin Emperor G model kit to go with my Mazinger collection.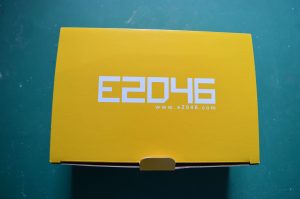 The kit itself arrived in one of e2046's pretty invincible boxes. When I first started ordering model kits online I really didn't want them to be damaged during delivery as most of them are very delicate and will travel more in two weeks then I probably will in 10 years. Thankfully the model kit is packaged with each part in it's own segmented bag, wrapped in bubblewrap, placed in a tight box so it doesn't move too much and then put inside a plastic frame keeping it int he middle of another box. I've never had any damages during delivery thankfully.
Whenever you start a new resin kit always check you have all the parts, thankfully they are all listed in the instructions which are packaged in the box along with a color photo of the model kit. It's also worth checking each part to make sure it has no bubbles or defective parts. I've not had any problems with e2046 models but it's always worth checking as this is a good time to fill any holes with some model putting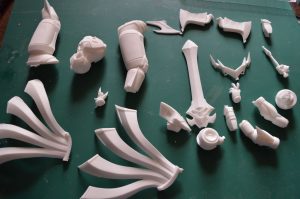 Before you paint any resin kits it's good practice to wash the parts in soapy water, this will just make sure the casting release chemicals are all washed off. Resin kits are usually cast in silicone moulds, to get the parts out without damaging the mould they are usually sprayed with some sort of release agent which will be invisible to you. Giving the parts a quick wash in warm soapy water will hopefully get rid of any release agent. If you leave any on and try to paint you will find the paint may not stick to the model. I've had problems with this once or twice over the years, it doesn't happen often but when it does it can spoil your paint finish.
I've used a mix of Tamiya and Games workshop acrylic paints. Over the years I've collected a lot of paints and for this kit I used a Tamiya surface primer spray can as I find they work well for for base coats and for the rest of the model I've used my airbrush and then gone over parts with different brushes depending on the detail.
Overall I highly recommend picking up this kit if you're a Mazinger or general super robot fan, Mazin Emperor G is one of the newer mechs and we don't have a lot of toys or statues of him. This is a very fun kit which is well designs, packed with detail and feels really sturdy.
The Mazin Emperor G kit and a pre painted and assembled version are available.
Posted by Adi Mursec on September 24, 2019