Resin kits make a great addition to any collection, they are especially handy if you're after a rare character from a Japanese manga or something. Although some come with articulation most come in a high detail statue form.  It's a level of detail you wont find in toys with each one having a bit more of a personal touch from the sculptor.
I've been lurking on E2046.com for a few years looking at their resin kits and recently decided to buy one for a bit of a weekend project. I've build a few Gundams in the last few years and wanted a bit of a different challenge.
They have hundreds of kits available but being a big fan of Mazinger Z I picked the biggest one they had in stock which is the Great Mazinger vs the General of Darkness and made an order. Since it's in stock it only took about two weeks to arrive.
E2046 have been in the business for a long time and have perfected a very high level of service. The box came well packed, it had a plastic insert keeping the inner box safe and inside that all the parts were individually wrapped and layered in bubble wrap.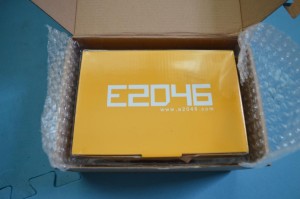 I was expecting to have to do a bit more work to this kit to get it ready for the build as I'd heard most resin kits need a lot of sanding and filling to get them ready to paint. For this kit I only had to clip off and sand a few of the casting points. Before these kits ship they go through two QC checks to make sure all the parts are their and in good shape.
To get rid of those casting points I clipped off the main chunk of them, then shaved them to a small stump with a model knife and then used a file I bought from Games Workshop. The file was a cool piece of kit to purchase as I thought I would need loads of soft sand paper, instead the files are gentle enough to leave the kit smooth without any marks as a conventional file would.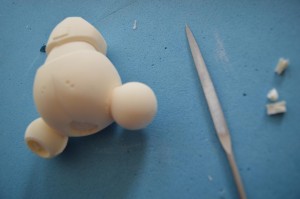 Other than just painting it I wanted to make this a bit more unique and when I saw the transparent lighting bolt in the box a part of me was compelled to wire it up to an LED. This makes the model a bit more functional too and with a slight blue tint to the lighting bolt it looks amazing lit up.
Wiring the LED in wasn't as easy as I'd hoped. I used a 3mm ultra bright LED and sanded down the sides a bit so it fit inside the lightening part. I started by drilling a tiny 1mm hole through the finger for the wires and drilled several other holes through the hand, arm, torso, leg and base. While drilling out the torso I added some to his jet pack too. I thought about putting an LED in the head to make the eyes light up but thought it might ruin the head as the face has a lot of detail.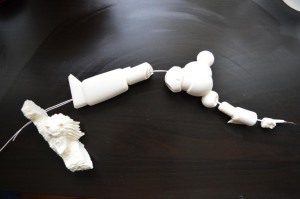 Once the parts were ready for the wiring I primed them all and assembled all the parts needing wiring. With these kits you can approach them in two ways. Either assemble it all first and paint it after or paint it first and them assemble it. I think it's down to personal preference and the kit for which method you use but either way can work.
The most difficult part of this was the bit I took for granted. I thought gluing the parts together would be enough but some of them are heavy and don't fit together exactly so the glue didn't stick. Instead I turned to 5 minute epoxy resin. This was a bit messy as 5 minute epoxy can still take hours to dry properly and excess epoxy can fill in detail making it hard to fix or paint. To speed up the drying process you can use 2 parts hardener to 1 part resin, it will stick just as well but should set a bit faster.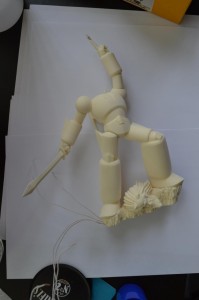 For the paints I used Games Workshop acrylics. They do hundreds of colors but I always stick to just the base colors. That way it saves a lot of money and you only need to buy Red, Yellow, Blue, Black and White. With those I could mix any color I needed. It's always easy to get hold of Games Workshop paints but I would have also loved to use Tamiya acrylics as I think the gloss colors they do would have left a much smoother finish to the kit.
If you were doing a few of these kinds of projects you might want to invest in an Airbrush and compressor but since I'm just doing on for now I hand painted it. To avoid brush marks just keep the paint thin as possible and do several thing coats. Lots of thin coats of paint is always better than one thick one.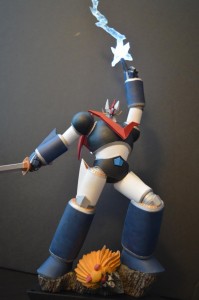 The paint work on mine got a bit messy towards due to it falling over and breaking at one point but I managed to recover the build and with the lightening bold all lit up it takes most of the focus.
E2046.com have done an amazing job of keeping some of these rare statues in print as they seem to be the only online shop selling most of them. If you don't want the fuss of assembling the kit they do have a pro painted option too on most kits.
Overall it's been a very fun and addictive experience building this kit and I'm going to try some of their full action articulated kits next. I highly recommend picking up a kit if find one from an iconic manga or game and fancy a bit of a challenge.
Posted by Adi Mursec on April 11, 2015