Do zombies read comics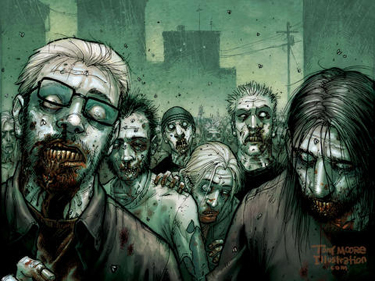 Zombies the feel good genre of comics. No matter how hard you have it as a comic loving geek you never have it as bad as those cursed to walk the earth feeding on the brains of those closest to you.
At Thought Bubble 09 those lucky enough to attend and fight there way into the conference room got to meet some of the brains behind the most popular zombie themed comics.
Charlie Adlard – Walking Dead
Sean Phillips – Marvel Zombies
Antony Johnston – Wasteland
Ben Templesmith – 30 Days of Night
If you only go to one convention this year try to make it to Thought Bubble. Last year really was great as it had something for everyone from manga fans to superhero zombie fanatics.
Posted by Adi Mursec on March 30, 2010
Meanwhile...