If Netflix didn't do enough to earn that subscription with the Daredevil series they have gone and made a new Voltron show too.
The original series has survived the test of time, the first incarnation was a Japan called Beast King GoLion which was then translated into the legendary 1984 Voltron. It's surprising it's taken so long to bring the show back but I think the whole Super Robot genre was lost in the 90s and 00's due to animation difficulties. Back in the 80's cartoons were probably at their peak but as animation got more costly the quality dropped and we never got the level of animation back.
Now CGI has become a lot cheaper and a lot more impressive, super robots are probably the best use of it too.
The new show is due for release all over the world via Netflix on June 10th. The whole series will be uploaded at once meaning it's going to be an epic Voltron marathon weekend.
Although we have only seen a few shots of the show so far but it looks like it could follow a similar story to the last series. There are five in the Voltron team in episode one but I'd put money on one of them being taken out and replaces with a female pilot by episode two.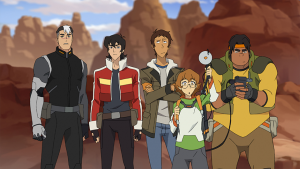 The original 1984 series had some great voice talent including Peter Cullen who also voiced Optimus Prime and the new Netflix series has Steven Yeun aka Glenn from the Walking Dead.
Overall I'm really looking forward to how this show turns out. With Dreamworks behind the production and Netflix dealing with world wide distribution it could make Voltron huge. I can't imagine there now being a big toy line to go with the series and we might even see Netflix bring back the original series which is hard to find nowadays.
Posted by Adi Mursec on March 29, 2016