To mark the 20th anniversary of the Mighty Morphing Power Rangers we saw the release of a new more articulated and modern Legacy Megazord from Bandai the masters of robot toys.
The Megazord is packed with features and was missing one thing. The Green Rangers Dragonzord. Thanks to the success of the Megazord release we now have a Dragonzord which also has die-cast parts and is more articulated and accurate to the one we got years ago.
Bandai have put a lot of effort into the Power Rangers Legacy toy line. They have big things planned as the Megazord was made to combine with this Dragonzord and then they in turn combine with Titanus which is going to be released in 2015 along with the White Tigerzord.
Although the Megazord is cool in terms of features this one looks really bad ass. It's giant green and black robot Godzilla and if you are lucky enough to own both toys you can combine them into the Mega Dragonzord.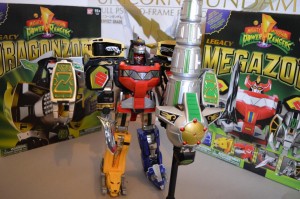 For some collectors the price might seem a bit steep but these aren't throw away Hasbro robot toys. These are made by Bandai the Japanese company that brought us Gundam's and make all the very high end robot toys at the moment. We wont see another Dragonzord like this for a long time as I can't see any way they could improve it's design.
If anything needs to change with the Legacy Power Rangers toy line it's that they need to be made more available. I picked this Dragonzord up at a convention and haven't seen it in stores yet. The Megazord was released in Toys R Us and a few other shops but is already sold out in most.
You can still get both the Megazord and Dragonzord online but prices vary with each one being priced at about $80-$150 USD each depending on supplies.
Posted by Adi Mursec on December 31, 2014