The Perfect Grade Unicorn Gundam

is the most anticipated mecha toy to come out of Japan for years. Where many fans thought it wouldn't live up to the name Perfect Grade it turns out Bandai have redefined the term and released a true masterpiece toy.
The Gundam line has always been way ahead of other toys in terms of advanced features due to the fact they just spend the time printing the toys and give it to you to assemble. The early kits has basic molds and didn't do much but over the last twenty years they have evolved into the most articulated and advanced robot toys on the market.

The PG Unicorn kit comes in a huge box about the size of a suitcase and contains hundreds of parts spread across its 45+ runners. It's the biggest kit Bandai have released to my knowledge and by far the most complicated to build. This is due to the way the final toy transforms between its three modes.
Unicron mode – armor plates are closed and it has a horn on its helmet.
Destroy mode – the armor opens up to reveal a psycho frame which lights up
Unchained mode – Similar to the destroy mode but has more of its armor open.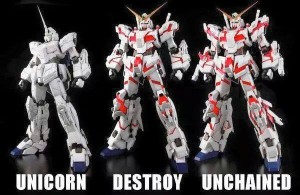 To help keep the kit affordable Bandai have split it into three sets so far with future add-on's likely on the way too.
The actual PG Gundam – roughly costing $130-$150 USD
LED add-on kit to make it light up $80-$100 USD
FA Expansion kit which adds more weapons $80-$100 USD
So overall the whole thing will set you back a lot of money but unless your a completist you will probably be just as happy with just the main robot. If anything I would rather just buy two PG Unicorn kits instead of the add-on's and display them in the Unicorn and Unchained modes.
A lot of Gundam builders are also making their own ways to light up the Unchained mode. The kit is easy enough to run your own wires though if you don't buy the LED upgrade as all kit has room made for a circuit.
Within a week of being released a few third party companies had already released custom upgrades including crystal clear psycho frame parts, more decals and probably better LED and weapons kits
Assembly Tips:
The kit will probably take 10-30 hours to complete depending on experience but just take your time with it as it's an expensive kit and replacement parts could be hard to come by if you break any.
With over 45 parts runners I found it very helpful to wrap a bit of masking tape round the corner on the runners and write the letter on. That way you can keep them all stacked in the box like a filing system, you wont have to go through each runner trying to find the right one each time you need a new part.
Like all modern Gundam kits they just snap together and you don't need glue and painting is optional.
With some of the parts on this kit being delicate and tiny compared to other PG  models I found it easier to use nail clippers rather than the usual model clippers as they made less mess and could get closer to the parts. This means you don't have to use a knife to smooth off the parts as much.
The LED kit is optional so I'd advise not buying it at first. If once you finish building it you want to pick one up the instruction manual has a section at the back which tells you how to safely disassemble the kit to add the LEDs in later on. If you do buy the LED kit at the start look out for the red boxed sections in the manual as they tell you how to add in the lights.
It isn't like most Gundams where you build the robot skeleton then just put the shell on after. Its layered with moving parts which make it very sturdy and weighted compared to other PG kits.
Being in the 1/60 scale range it stands about 16 inches high and in the unchained mode it's the tallest of the PG Gundam models making it the most awesome kit Bandai have produced. If you only own one Gundam it's a must buy.
When Bandai released the 1/144 and MG 1/100 scale Gundam Unicorns they made a lot of re molds in different colors and I expect we might see the same with this mold. A Perfect Grade Banshee is probably already in the works if not in a Bandai factory a third party company will be developing it.
The PG Unicorn kit should win every toy of the year award going and Bandai have set a very high bar for future toys. I can't imagine another mecha toy being released in the next few years that could rival it.
Posted by Adi Mursec on December 31, 2014