Following on from the Great Mazinger Resin kit statue assembly here is another GK from e2046.com. Where most resin kits are statues this is one of the hard to come by articulated resin kits known as "Full action".
Take a look at the New Robot King kit on e2046.com.
The kit was originally released in 2009 and quickly sold out but the team at E2046 have their own cast of the rare kit. The mecha robot is based on a character called New Robot King. From what I could find it is based on a Korean robot cartoon released in 1981 back when he was just Robot King, a giant heroic robot piloted by five young pilots.
This is the first Full Action kit I've ordered from E2046 but going off how much fun it was to assemble and paint I'm hoping to order a few more over the next few months. They have some other amazing articulated resin kits like one of the most wanted and not yet officially released Gundams the MG Kshatriya and a beautiful Genetic Gao Gai Gar Full Action.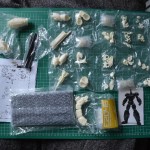 The kit arrived like the Mazinger statue in a nicely branded e2046 box with all the parts bagged and bubble wrapped along with a QC check card to make sure the kit has all the parts and they are all cast in good condition. One of the best things about ordering from them is you don't have to worry about the quality. They might not always be perfect casts but they will be among the best you can get.
The first stage of building this kit was to check each part, cut off the extra casting nubs and sand them down to a smooth finish prepared for painting. The kit was pretty clean but most of the parts had a little bit of casting bits to sand down. I used a diamond file to smooth down the kit, it was one I bought from Games Workshop which leaves the surface smooth unlike a normal file which would leave lines or a rough surface.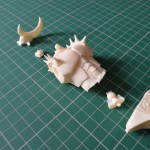 Once the kit was all smooth it needed to have a test assemble before painting to make sure all the parts fit together. Since it's made out of resin the material doesn't have the slight flexibility of plastic toys so resin kits tend to need rubber tubes to go between joints and allow it to be poseable once it's finished. The kit comes with several sizes of tubes which need to be cut to about 5-10mm and glued into place. Some of the ball joints were still a little lose at this stage but that's fine for now.
To get the joints to work best you need to paint them, strengthen the join and make sure the paint doesn't ware down when it's being used. The best way I've found to do this is to. Sand down the ball joint to be as round as possible. Then once it's been painted cover it in several layers of super glue. The glue will tighten the joint by making the ball joint slightly bigger and will also protect the paint.
One thing I didn't like about my last resin kit assembly was the brush marks in the paint so this time I've invested in an airbrush to lay down the under coat and keep the bigger surfaces of the model smooth.
Before I started painting this one I looked online for references and examples of other peoples versions. Most of them keep the model a gloss black with subtle highlights and a little chrome silver. Since I couldn't find a definitive color scheme I decided to make up my own.
The kit is perfect for customs as it has a fairly generic mecha base so with a few changes to the head or re sculpting you could make it into a lot of other robots like Mazinger or Getter Robo and have a nice custom original take on a Super Robot.
Once it's all finished he stands up very well to figures in my Bandai Soul of Chogokin line, he's a bit bigger than the others has he is about 8 inches tall and comes with a really nice stand, several hands and a dead robot dragon head which he keeps as a trophy from his last kill.
The articulation is great and better than a lot of Transformers his size, It's similar to the Revoltech toys but his joints still need a little care when moving it about. The finished product isn't a kids toy but will fit in well with any mecha toy collection.
Posted by Adi Mursec on October 11, 2015