Mega man is one of those iconic games which never seems to get enough attention. Thanks to the team at e2046.com I've managed to get my hands on this resin kit modelled on one of the characters Magma Dragoon (マグマード・ドラグーン) from Mega Man 4.
The resin kit stands about 6 inches tall and is really detailed for a garage kit its size. It's probably a beginner to mid level kit as although it's small it was still a bit of a challenge to assemble and paint.
There are a lot of companies which make resin kits and due to the nature of them you need to find a company you can trust otherwise you might find a kit with missing parts or poorly cast pieces. I've ordered a few kits from e2046.com in the past and they have all been top quality, everything from the packaging is well looked after and they also go through two QC checks before they ship.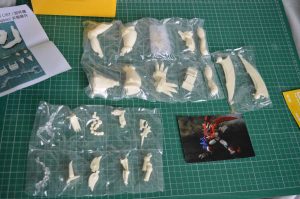 Resin kits like this are a great way to get a high quality statue at a cheap price. Most statues you see in comic shops are made the same way, just pre assembled and painted so the price is usually about 5-10 times more expensive. Another benefit to resin kits is the exclusivity, most of them are made to order or on very small production runs.
When you're building kits it's important to check the parts, I've never had a problem with the way e2046.com package them but it's always worth checking.
Because the parts are cast in resin there are usually nubs on the end of the parts, these are easily clipped off and sanded, with the Magma Dragoon kit there wasn't many bits which needed sanding. Recommended tools for preparing parts would be things like clippers and diamond files both of which you can pick up from a local Games Workshop.
Resin kits are usually cast in moulds and to make sure the parts come away from it smoothly they usually use a releasing agent, this will be pretty much invisible on the parts so before we paint we should wash the parts. This can be done just in warm soapy water. Make sure all the parts are cleaned as this will help get a smoother paint finish.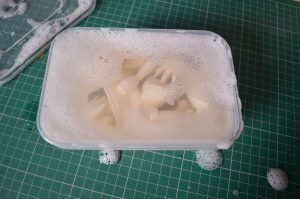 To make this one a little more functional and unique I've drilled out the head and a space going through each part down to it's foot to fit an LED in. I've done this in the past on a few models and it turns the statue into a cool little lamp / night light.
At this point it's good to do a test fitting to make sure all the parts fit together, you might find sometimes with resin kits that parts are a little warped or out of shape since they are all cast individually. If you find something that doesn't fit together perfectly you can always sand them down or add Milliput / another sort of model putty to the parts.
The kit comes with some really nice clear resin for the the smoke affect coming out of his mouth. To get this to stay in p lace was a bit of a challenge, in the end I drilled a small hole into each piece of smoke and glued some wire between them, then glued the wire to the top of it's mouth and it all stuck together. The kit comes with two jaws, one for an open mouth and one for a closed. If you go for the open mouth option you will need to buy a clear bead for the energy ball. While I was shopping for one of these I picked up some smaller green beads and replaced the necklace, the one it came with was resin and would have needed painting. By using real beads for it's necklace it's got a really nice shine when the LED lights up.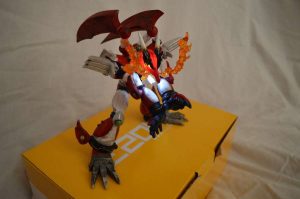 When it came to painting I considered using the air brush but decided to go for a hand brushed affect, it takes a little longer doing it by hand but it was a fun model to assemble and it's made to have a battle damaged look.
For paints I've used
Games Workshop primer – white
Tamiya red gloss
Tamiya white gloss
Tamiya blue gloss
Tamiya black gloss
Tamiya Silver
Tamiya Gold
and a Games workshop wash to stain the finished paint a bit, this filled all the little gaps and helped merge the colors at joints.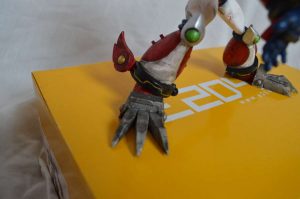 Overall this is is a great model for someone who ever loves Mega Man or wants to start working on Garage Kits without spending a lot of money. I've loved making all the statues and figures I've ordered from e2046.com they have been making kits for years and a company you can trust to release all the most wanted garage kits.
Posted by Adi Mursec on August 16, 2016