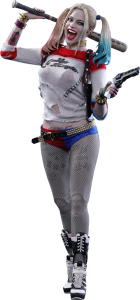 This is probably going to be the most wanted toy of 2017 considering how the Suicide Squad has been one of the biggest movies of 2016 and Harley Quinn brought in the most fans.
You might have seen Hot Toys Iron Man figures around, they are the most detailed action figures you can buy, made by a company based in Hong Kong. This version of Suicide Squad's Harley Quinn has been put together by nine of the companies finest artists. The photos here are just of the early prototype so expect some changes as it's not due out until July 2017.
What's interesting about Harley Quinn is that just about every toy Sideshow release of the character has sold out pretty much before launch which is why the pre order is important to fans.
For anyone worried you can pre order the Hot Toys Harley Quinn on the Sideshow website  Pre order Harley Quinn 1/6 scale Figure
The figure is a 16 scale Margot Robbie which stands about 29cm tall which is even more impressive considering how much detail the costume has along with the tattoo's it almost looks like a photo of Margot Robbie herself. The prototype in the pictures shows one head sculpt but the final version released in 2017 will probably have a few hand painted variations.
Costume:
Red, blue and white colored tee top
Property of Joker jacket
Red and blue colored bra
Shoulder holster
Pair of red and blue colored hot pants
Black belt and gold colored embossed patterns
Pair of stockings revealing the tattoos on lower body
Pair of black, white, and red colored high heels
Weapons:
Baseball bat
Revolver pistol
Speed loaders
Accessories: 
Silver colored handbag
Neck choker
Two gold colored bracelets
Two purple colored leather-like bracelets
Specially designed Suicide Squad themed figure stand with character nameplate, movie logo, and character backdrop
Posted by Adi Mursec on August 31, 2016